Cooktop Griddles Compared
Fancy yourself, a downtown Chicago short-order cook? Ok maybe not…then how about just being inspired by the cooking demonstrated on the Food Network show, Diners, Drive-ins and Dives? I know because I have had the privilege of being on the show with Guy Fieri, and I can tell you that I was inspired!
Inspired? then you're probably thinking to include a griddle surface in your next cooktop or range.
Virtually all high-end cooking product manufacturers offer griddles for their range tops of 36″ or larger with griddle sizes ranging from 12″ to 24″. It's a premium feature that many see preferable to having additional burners that might only see use occasionally. And a grill might seem like a great idea, until you remember that your beautiful Wood-Mode kitchen doesn't include a commercial-grade exhaust system. (Hold that thought though… for our next article on ventilation)
The new Teppan Yaki cooktops offered by Gaggenau, also bring this type of cooking to sleek, contemporary, urban built-in kitchens as well, where you definitely don't want that big "clunky" restaurant look breaking up the flush inset precision of integrated appliances!
Each manufacturer seeks their market share and offers what they believe makes their griddle better. Features such as an easy cleaning, reduced-stick surface and faster electrically heated, titanium bonded aluminum griddles, have greatly improved performance over old fashioned bare steel that will rust and corrode without a lot of laborious maintenance. In the case of our friends at Wolf, an infrared gas heat system has been introduced to attempt to compete with the more modern electric units, in an effort to mimic electricity's consistently even temperatures.
When you strip away the marketing hype, you have sleek, light, quick to heat griddles verses the very thick, heavy pieces of metal that conducts and holds heat well, but takes forever to do it and then again takes forever to cool back down when you wish to lower the heat. And because they are not removable and integrated into the cooktop or range, they can be very arduous to even try to clean. This type will never look new again after being used, many call this look "Seasoned".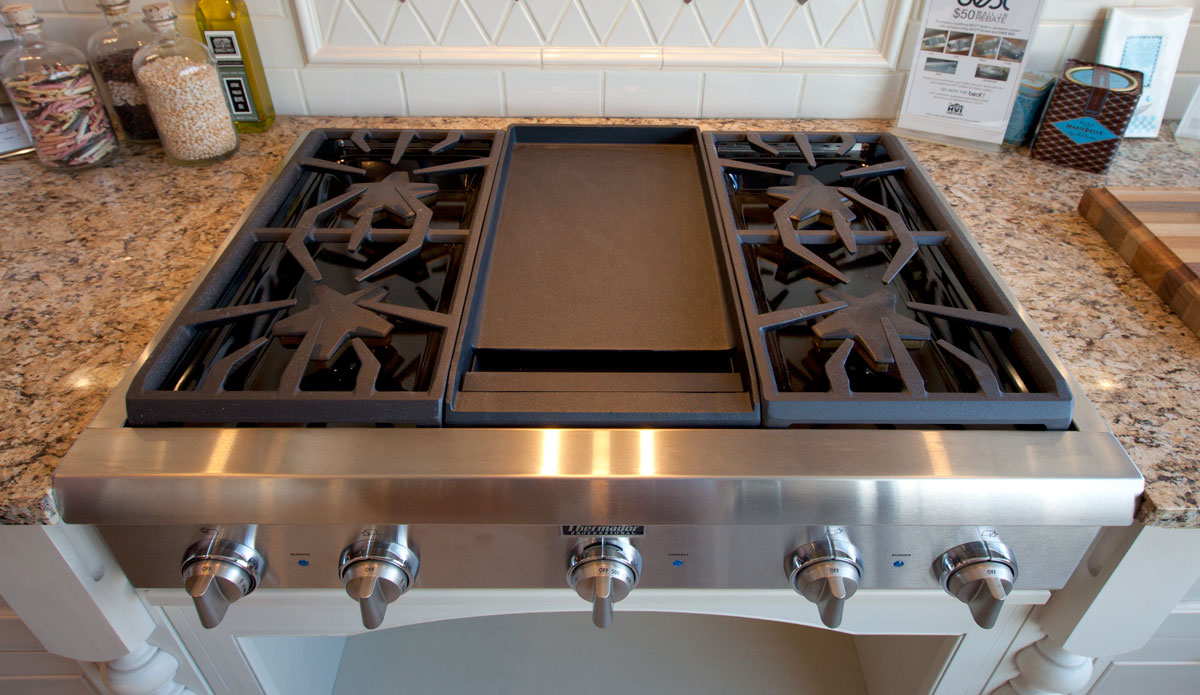 Electric units like those first introduced by Thermador and later by Jenn-Air and, produce between 1,320 to 1,630 watts while the Wolf gas griddles are rated in BTU's. It's apples and oranges and hard to compare. The bottom line is that these are powerful units that get and stay hotter than you'll likely ever need them so it's important that you can turn them down and have them respond quickly. From pancakes and eggs to hamburgers and quesadillas, these cooktops will get the job done and then some….only if you can control them.
Here are some bullet points to consider when choosing a cooktop griddle:
Electric tends to heat more evenly and controllably than gas
Gas griddles tend to be cooler at the edges, which can be managed once you learn where the uneven patterns are…but are a little like Grandmas' old uneven oven, that she knew right where to put the cake! That said, most of us will take a modern convection oven's evenness, over an old timer, anytime.
Traditional Cold Rolled steel is functional, if you have a long time to preheat. Restaurant Pros can use them, because they have staff that arrives a half hour before they do, to turn everything on including the griddle to preheat. Also if you wish to use this type for home use, take a picture when it's new, because it will never look that way again. In the back of a restaurant, no one sees the rust and baked on food and it is NOT the chef who has to try to clean it at the end of its use, like it will be you.
Titanium, molecularly fused on aluminum will definitely heat much faster and more evenly. The non-stick qualities of the "harder than steel" titanium also make the clean up a breeze after dinner!
The most convenient griddles are removable and can be easily placed in the dishwasher for cleaning.
Typically, the old fashioned pro-grade griddles must be cleaned in place. (But Hey! Unlike you, they have clean up help at the diner!)
Your choice? The question is, do you have time and domestic help? If so, you can do just fine with the old fashioned griddles, but for most busy folks, who clean up after themselves, the modern, fast heating, nonstick versions have really caused a resurgence in pro griddle range top sales!