Brookhaven Cabinets: What makes us different?
As Chicago's oldest Wood-Mode and Brookhaven dealer, we have been carrying and selling both cabinetry lines for over 50 years. If you're visiting this page, you already know about the Brookhaven brand, but might be curious about the difference between the two lines.
Brookhaven, unlike Wood-Mode cabinetry, is considered a semi-custom line. What does that mean? First, when you buy the Wood-Mode line you have more flexibility with respect to customization, (size, trim, etc.) and finish, (colors and door styles). Wood-Mode cabinets can be made to match virtually any color or type of finish, and can require many more hand-finishing steps.
Second, while both lines feature solid-wood doors, the Wood-Mode line uses furniture grade plywood for the boxes while Brookhaven uses particle board with the option to upgrade to plywood. If you've seen a Wood-Mode cabinet you know that there is a beautiful maple veneer on the plywood that is simply gorgeous.
Brookhaven covers the particle board in a very nice wood-grained or white melamine that while not as sumptuous, is actually more practical.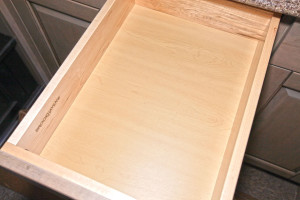 So, which should you choose?
Here's our suggestion. Self-serving though it may be, start by finding a great designer who can deliver a beautiful, functional kitchen at the most economical price. Many of the kitchens we design today incorporate some of both lines. As long as you can choose a finish shared by both lines, you can select Wood-Mode cabinets where you need some extra flair in trim style and stick with Brookhaven in the more functional areas of the kitchen.
No matter which line you choose, these cabinets are going to last a lifetime with proper care and maintenance. And with the Brookhaven cabinets now backed by a limited life-time warranty, you know the company stands behind its products.
The semi-custom Brookhaven lines, Brookhaven I and Brookhaven II, boast standard features that insure decades of service for your kitchen cabinets including:
Stained finishes are applied in an 8-step process
Adjustable shelves that lock firmly into place
Extra-wide cabinet openings
Cabinet components constructed of furniture-grade particleboard
Heavy duty solid maple dovetail drawers
Full-extension drawer slides mounted under the drawer for a wider interior storage space
Lifetime warranty on drawer slides and hinges
Brookhaven I:  Frameless design available in over 20 door styles in furniture grade plywood, high-density furniture board and natural woods.
Brookhaven II:  traditional framed construction cabinetry available in nearly 30 door styles in furniture grade plywood, High-density furniture board and natural woods.